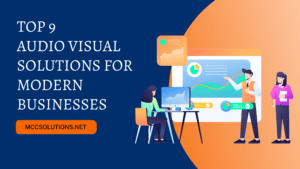 In today's digital world, audio visual (AV) solutions are essential for businesses to stay competitive and successful. Whether it's a small business or a large enterprise, AV solutions can help improve operations, communication, and collaboration. The use of audio visual technology in meetings has become increasingly important in the modern workplace. With the rise of remote working, video conferencing, and other digital tools, businesses need to have access to reliable audio visual technology.
In this post, we'll explore the top 9 audio visual solutions modern businesses can leverage to get ahead of the competition.
Video conferencing is one of the most popular AV solutions businesses use today. It is estimated that more than $37 Billion per year is wasted on unproductive meetings. The proper video conferencing equipment and collaboration software allows users to connect with colleagues and customers from anywhere in the world in real time and can help make meetings more productive. Video conferencing also provides an easy way to share documents, presentations, and other files during meetings. Additionally, video conferencing can be used to host virtual events such as webinars and conferences. The Webex collaboration suite also does meeting recordings, transcripts, and also includes messaging and calling capabilities.
Lighting and sound systems are essential for any business that hosts events or presentations. They help create a more inviting atmosphere and ensure that guests can clearly hear the audio component of your event. Additionally, lighting and sound systems can help set the mood in an office environment, helping employees to stay productive and motivated.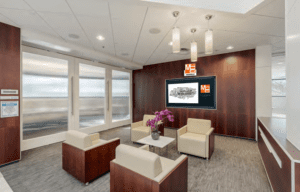 Digital signage is another popular AV solution that businesses use to display information in a visually appealing way. Digital signage can be used to display anything from menus and product lists to promotional videos and advertisements. It's also great for displaying real-time updates such as weather forecasts or stock prices.
Interactive whiteboards effectively allow teams to collaborate on projects in real time without having to be in the same room together. These boards allow users to draw diagrams, take notes, share files, and more while working together remotely or in person. They're especially useful for brainstorming sessions and creative projects where collaboration is key.
Audio systems are essential for any business that needs clear sound quality during meetings or events. These systems provide superior sound quality compared to traditional speakers, allowing users to hear clearly even when they're far away from the sound source. Audio systems also come with features such as noise cancellation, which helps reduce background noise interference during important conversations or presentations.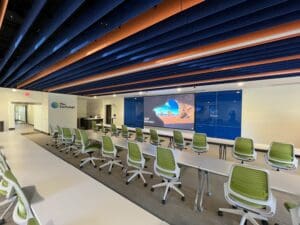 Projectors and screens are great for displaying visuals during presentations or meetings without relying on bulky monitors or TVs that occupy valuable space in a room or office setting. They're also perfect for creating immersive experiences with high-definition visuals that make any presentation stand out from the crowd! Manufacturers like Panasonic provide outstanding 4k laser projectors that are cheaper and more efficient than traditional projector systems and offer outstanding brightness and readability. (Read: The Benefits of Laser vs Lamp Projectors: 5 Reasons You Should Consider One Now)
Coming in at number 7 in the top 9 audio visual solutions is control systems. Control systems are designed specifically for controlling multiple devices simultaneously, such as projectors, screens, audio systems, and more, from one central location using just one remote control device or app interface. This makes it easier for businesses to manage their AV equipment without complicated wiring setups between devices.
Automation systems allow businesses to automate certain tasks, such as turning off lights when no one is present in a room, adjusting temperature settings based on occupancy levels, dimming lights when needed, etc. Automation systems make it easier than ever before for businesses to save energy while still providing comfortable environments for employees.
Streaming solutions provide businesses with an easy way to broadcast content live over the internet so it can be viewed by anyone worldwide at any time. This makes it perfect for hosting virtual events such as webinars, conferences, product launches, etc. Streaming solutions also make it easier than ever before for businesses to reach larger audiences without having them physically present at an event location.
By leveraging these top 9 audio visual solutions, modern businesses can increase efficiency within their operations while improving communication and collaboration among employees inside and outside their organization's walls!
MCC has been helping businesses power up their audio visual game for more than 50 years. Speak to an expert today for a free consultation and demo.