Ask more about the services you need and get best offer.
Your Trusted Memphis Office Technology Dealer
At MCC Memphis, we specialize in providing top-tier office technology solutions to businesses across Memphis, TN. With a rich history and deep-rooted expertise in the industry, we are committed to delivering innovative solutions that streamline your business operations and enhance efficiency.
Our core values revolve around offering reliable, high-quality solutions, backed by unparalleled customer service. We pride ourselves on our ability to understand your unique needs and provide customized solutions that align with your business objectives.
Efficient Copier & Printer Solutions for Modern Businesses
Our range of high-performance copiers and printers are designed to meet the most demanding business needs. From high-volume printing to precise color reproduction, our devices deliver unmatched quality and reliability. Coupled with our comprehensive document solutions, we help you manage, store, and share your documents more efficiently, making your workflow seamless and productive.
From document digitization to efficient document management systems, we provide tools that eliminate clutter, enhance accessibility, and promote a more organized workspace. With MCC Memphis, you don't just get equipment; you get a partner committed to optimizing your document processes.
Streamline Your Mailing Process with Our Postage Meters & Folding Machines
When it comes to mailing solutions, our precision-engineered postage meters and folding machines offer speed, accuracy, and convenience. These systems simplify your mailing process, ensuring your communications are professional and timely. Trust MCC Memphis to provide effective mailing solutions that save you time and money.
Secure Your Business with Comprehensive Security Solutions
In an increasingly digital world, business security becomes paramount. We offer advanced CCTV solutions and access control systems to ensure your business stays safe and secure. Our security solutions not only protect your assets but also contribute to savings by preventing potential breaches and thefts.
With our CCTV systems, monitor your business operations in real time, enabling faster decision-making and immediate responses to any irregularities. Our access control systems, on the other hand, eliminate the need for manual visitor logging, saving your staff valuable time that can be better spent on core business tasks.
Enhance Communication with Our Audio Visual Solutions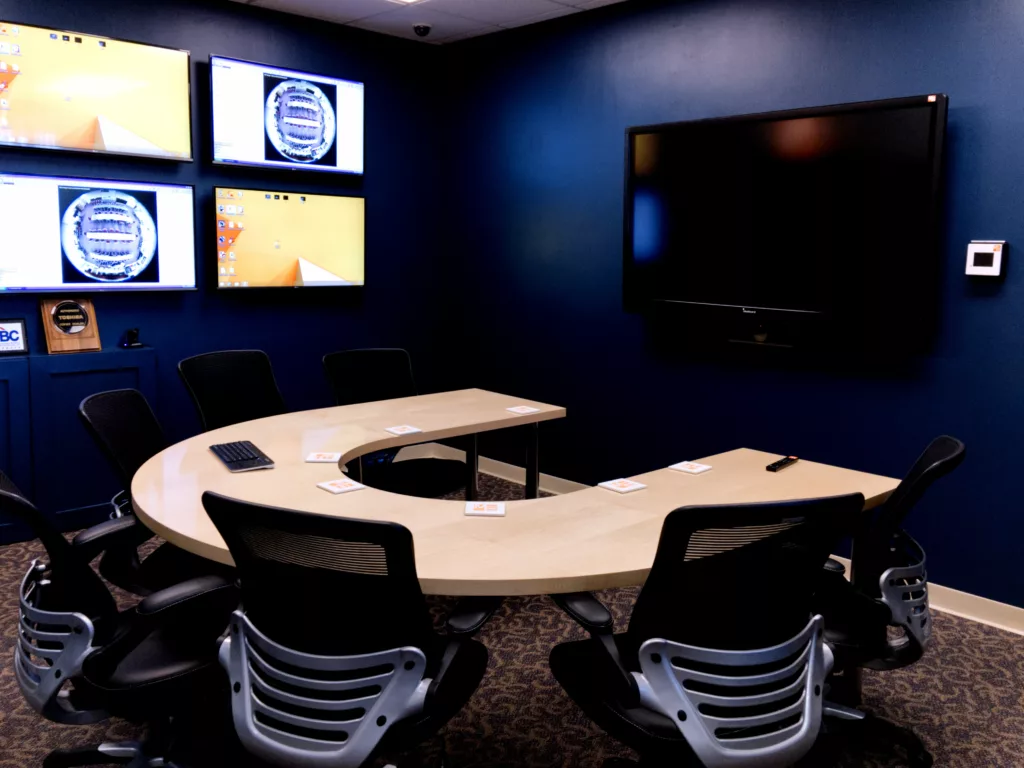 Elevate your communication and engage your audience with our state-of-the-art audio-visual solutions. Our dynamic digital signage solutions command attention, effectively delivering your message whether you're in your office lobby or exhibiting at a trade show. Boost the impact of your presentations with our advanced solutions, featuring superior lighting and sound systems. For collaborative sessions or long-distance conversations, our crystal-clear video conferencing systems guarantee every participant is seen and heard distinctly. With MCC Memphis's audio-visual solutions, you're not just communicating, you're captivating your audience. Partner with us today and set the stage for your success.
Elevate Your Communication with Our Telecom Solutions
In the fast-paced world of business, effective communication is crucial. That's where our telecom solutions come into play. With our state-of-the-art Webex system, you can host online meetings, webinars, and video conferences with ease. From local team meetings to international client presentations, our telecom solutions ensure clear, uninterrupted communication, irrespective of geographical boundaries. By reducing travel time and costs, our solutions not only streamline your operations but also contribute to your bottom line. Make the smart choice for your business communication needs with MCC Memphis.
Choose MCC Memphis for Your Office Technology Needs
When it comes to office technology in Memphis, TN, MCC Memphis is your trusted partner. We combine industry-leading technology with unrivaled expertise to deliver solutions that make a real difference to your business. Contact us today to find out how we can help you streamline your operations, secure your business, and achieve your goals.
Choose MCC Memphis – your partner in office technology. Experience the difference today and step into a more efficient future.
Expert Copier Repair in Memphis
Are you in search of dependable local copier repair and copier maintenance services in Memphis? Look no further. MCC Memphis, backed by over 50 years of industry experience, offers practical solutions tailored to your specific needs. We understand the disruption a faulty printer or copier can cause to your business operations. That's why our team of factory-trained technicians is committed to delivering prompt, professional, and reliable copier service to minimize downtime and maximize productivity. Our proven expertise and unwavering dedication to quality assurance make us the trusted choice for businesses throughout Memphis. Our services are more than just repairing and maintaining your office equipment; they are about providing solutions that work for you.
Don't let printer or copier issues hold you back. Take action now and experience the superior service and peace of mind that comes from partnering with MCC. Contact us today and let our experts keep your business running smoothly.
What Our

Clients

Said About Us
At MCC we treat our clients like family, and it shows. With 200+ 5 star reviews on Google and an A+ rating with the BBB, MCC is the right choice for your business partner.