Finance Industry

Solutions
Problems Facing the Financial Industry
In the digital world, there's no room for manual processes and systems. Financial institutions need to consider technology-based resolutions to industry challenges. This shift to a technology-first attitude will allow institutions to optimize existing processes and procedures for maximum efficiency.

From banks to offices, security is a major issue facing the financial industry. In 2020, 1788 financial institutions were robbed and only 1500 of those had functioning surveillance cameras and even fewer had functioning access controlled entry and alarm systems.
Hybrid Working - What the Finance Industry Needs to Know
Watch the Cisco financial services experts panel discussion on the current and future state of hybrid work in the industry. In the not-so-distant past there was a different image of financial services: employees in business attire getting off mass transit and heading into their offices on Wall Street or Canary Wharf. Now we are seeing a huge shift to working from home, office or anywhere. Our experts share their insights on how to get the best out of hybrid work for your company.  During this inspiring conversation we cover:  Specific use cases for Hybrid Work driving business outcomes in financial services;  Improving the employee experience;  The impact of Hybrid Work on the importance of security.

MCC Secure, our all-in-one business security platform, allows you to monitor your business security from anywhere with our mobile apps. Monitor cameras, door entry access, and even temperature and lighting. Securely and easily access incident recordings with the convenient search functions and receive notifications and alerts when unexpected events happen. MCC Secure offers you the peace of mind of knowing your business is secure even when you are not there.

All MCC solutions are certified secure. From copiers to automated AR processing, security is our top priority. Not only can we help reduce your physical storage with secure, cloud-accessible client files, but MCC's document management solutions also provide SEC and NASD compliant digital document management that eliminates the possibility of altering documents without detection. A secure client portal provides an easy way for clients to upload documents such as statements or tax forms, that will automatically integrate with your document management platform and your digital workflow.
MCC's communication solutions allow your employees to get their jobs done quickly and securely, saving you money. Webex is a fully encrypted collaboration suite that gives you the ability to have secure audio calling, video conferencing, and messaging all in one easy-to-use platform. With Webex, you can easily communicate with your staff and clients and still keep your financial communications secure.
Take the worry out of your mailing processes with MCC's secure mailing solutions. We can help simplify and automate your mailing workflow to save time and get your employees back to other tasks quickly. With MCC and Quadient's in-house or outsourced mailing solutions, sending statements, marketing, and other business communications is easy, secure, and fully compliant.
Say Goodbye To Mail Prep Hassles
Discover the future of business communication with MCC's Impress software. This powerful tool allows you to prepare, process, and deliver both physical and digital communications right from your desk with just a few clicks. Whether it's through a secure, branded customer portal, tracked email, or SMS text, your messages reach their destination swiftly and seamlessly.
But that's not all. With Impress, you're not just gaining efficiency – you're also enhancing security. Our advanced software significantly reduces the risk of human error and potential privacy violations, ensuring that the right documents always reach the intended recipient.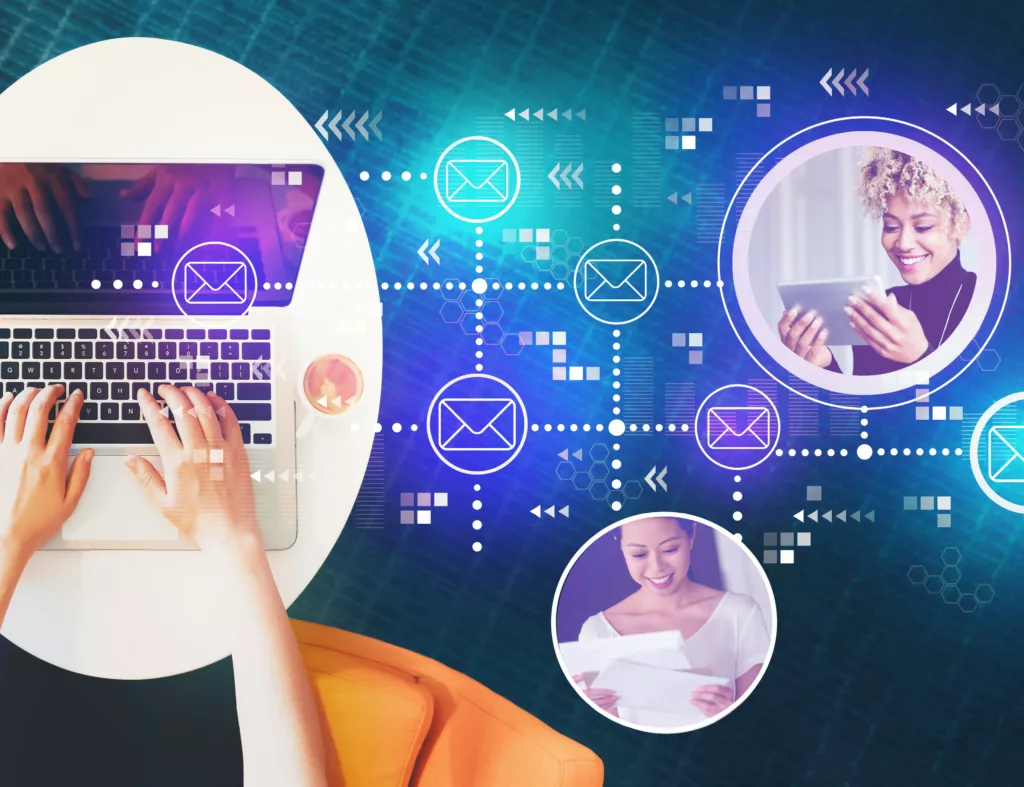 Whats Our

Clients

Said About Us
At MCC we treat our clients like family, and it shows. With 200+ 5 star reviews on Google and an A+ rating with the BBB, MCC is the right choice for your business partner.