Healthcare

Technology

Solutions
In the realm of healthcare technology, document management presents numerous challenges that can significantly impact operations. Traditional methods of paper record-keeping not only run the risk of lost forms and incorrect information but also pose potential security violations.  Moreover, the financial implications of maintaining voluminous paper records are considerable, factoring in storage costs and the upkeep of printing and copying equipment. This underscores the need for efficient, secure, and cost-effective document management solutions.
In the healthcare sector, securing patient data is paramount. However, achieving seamless HIPAA compliance can be a daunting challenge. It involves navigating complex regulations, mitigating security breaches, and ensuring no paperwork goes astray, which can be time-consuming and costly. This is where MCC's healthcare technology solutions come into play. Our innovative systems are designed to streamline these processes, providing a robust and compliant infrastructure for data security. With MCC, you can confidently safeguard your patient data, mitigate the risk of breaches, and maintain compliance with ease. Experience the practical benefits of our solutions and witness a significant transformation in your data management approach.

SECURELY CONNECTING THE COMMUNITY OF CARE
Effortlessly share and store patient information in a secure and interoperable manner.
Data security is a top priority for healthcare organizations. Your print management solution needs to protect Personal Health Information (PHI) to maintain compliance, integrate with your Electronic Medical Record (EMR) application for seamless security, and be easy to use so staff can focus on what matters most: patient care.
From lobby displays showing wait times and marketing to breakroom displays for internal communications, MCC Media helps communicate your message to patients and employees. Our widget-based content management system allows you to create dynamic content easily and integrates with a variety of sources such as cloud storage, social media, and even your internal software systems. MCC Media is simple but powerful
With MCC's mailing solutions, you can eliminate manual processes, consolidate your mailing workflow, send communications digitally, and even outsource your entire mailing process. From postage meters and letter folding and inserting machines to outsourcing software solutions, MCC can help take the pain out of your billing and invoicing processes and save you money.

Every medical facility faxes PHI (Patient Health Information), but the FCC is forcing the "sunset" of traditional, analog fax technology. MCC offers secure cloud-based faxing solutions that allow you to continue to fax PHI and provides HIPAA compliance to ensure patient data safety. These solutions integrate with your EMR/EHR, allow you to keep your current fax number, and are cost-effective.

MCC is proud to provide 24/7 remote support for all our solutions. After-hours service calls are available outside your maintenance agreement for issues that cannot be resolved remotely. In addition to our helpdesk team, MCC provides an Express Passport for each solution installed. Your Express Passport allows you to easily and quickly request a service call and order supplies. With the 24/7 Helpdesk and the Express Passport, MCC makes getting help easy.
5 Ways to Expand Patient- Centered Care
Webex makes patient care simple and secure with virtual care. Download our infographic to learn more about how Webex can help your facility with Teledoc and virtual patient care.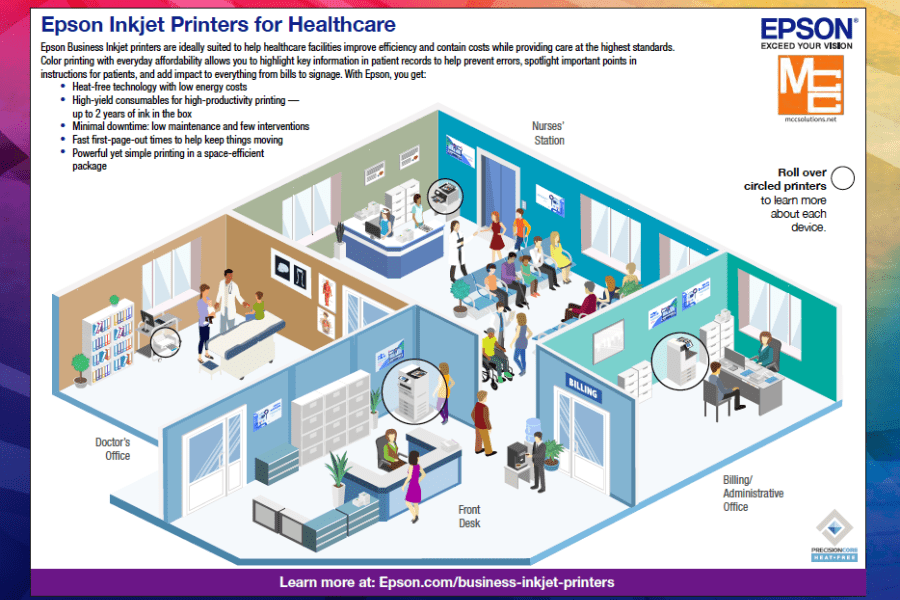 Epson Inkjet Printers for the Higher Education Market
Even in the digital-age, high-quality, color-printed material are important tools that offer many advantages for healthcare facilities.
Check out our interactive guide to see what Epson and MCC can do for your clinic or hospital.
Whats Our

Clients

Said About Us
At MCC we treat our clients like family, and it shows. With 200+ 5 star reviews on Google and an A+ rating with the BBB, MCC is the right choice for your business partner.