Lighting & Sound

Solutions
Lighting and Sound Systems
Extreme brightness or deafening volume can turn an audience experience from enjoyable to uncomfortable in an instant. At MCC, we understand that balance is key when it comes to lighting and sound systems.
With a legacy stretching back to 1972, our expertise is robust and time-tested. We're confident in our ability to craft a system that not only meets your needs but also ensures the comfort of your audience. No more strained eyes or ringing ears – just a seamless, enjoyable experience.
Why not visit one of our showrooms? We'd be delighted to guide you through our range of lighting and sound solutions, demonstrating how they can enhance your space. Let MCC be your trusted partner in creating an environment that truly resonates with your audience.
Church Lighting and Sound Systems
At MCC, we've mastered the art of designing comprehensive lighting and sound systems tailored to churches of all magnitudes. Our specialists in church lighting design meticulously craft the ideal lighting systems to enrich your worship services. Simultaneously, our sound system experts guarantee that your sermon echoes uniformly across every corner of the church.
We're proud to have collaborated with hundreds of churches nationwide, just like yours.
Let's work together to amplify the worship experience for your congregation, making each service more immersive and memorable. With MCC, you're not only choosing top-quality systems but also a partner dedicated to enhancing your worship environment. Trust us to shine a light on the best solutions for your needs.
Commercial Lighting & Sound Systems
Navigating the world of sound system technology can feel daunting, especially if you're not a pro. But worry not – MCC is here to tailor-make a commercial sound system that fits your space like a glove and is a breeze to operate.
Our seasoned designers have fine-tuned their craft in spaces of all kinds – from spacious theaters and auditoriums to cozy classrooms and conference rooms. They don't believe in one-size-fits-all solutions but rather in meticulously customizing to ensure the sound resonates just right in your unique space.
We've designed systems that not only entertain customers and employees but also facilitate seamless communication in schools, enhance learning experiences, and ensure safety. So whether you're after a booming sound system to bring your brand to life or a more nuanced setup for ambient music, we've got you covered. Trust MCC to hit the perfect note with your sound system design.
A recent study found that workers are interrupted every 11 minutes by conversations, ringing phones, and cubicle noise. It takes just 4 to 6 seconds for a noisy conversation to register – and once your employees are distracted, the average time it takes to get them back on track is 23 minutes. Despite their best intentions, co-workers and managers unwittingly transmit sensitive information during those interruptions through overheard conversations and phone calls. That makes sound masking critical for protecting privacy and safeguarding confidential information.
To learn more, download our Why Do You Need Sound Masking infographic or contact one of our sound masking experts.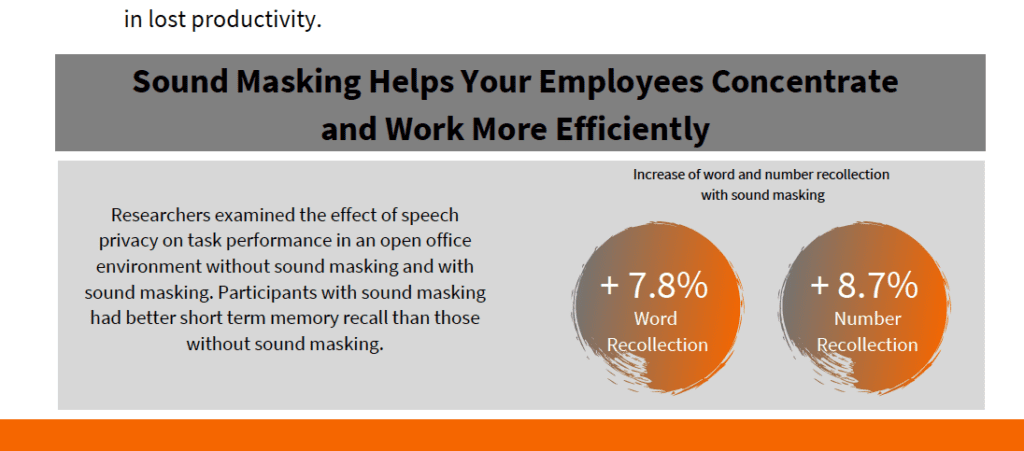 What Our

Clients

Said About Us
At MCC we treat our clients like family, and it shows. With 200+ 5 star reviews on Google and an A+ rating with the BBB, MCC is the right choice for your business partner.