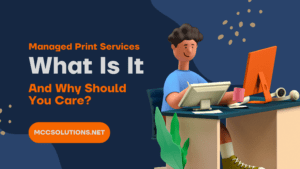 Managed print services can save you money, but it's not always easy to know what that means for your organization. Managed print services (MPS) help you cut costs by providing an outsourced printing solution. This includes everything from toner cartridges and printers to maintaining a fleet of equipment and providing IT support when necessary. If done correctly, managed print services can lead to significant savings over time by lowering your overall printing costs while increasing the efficiency of your IT department and its ability to manage all aspects of printing. In this post, we'll take a look at some tips on how you can make sure that your MPS program is working as efficiently as possible so that it saves you money!
What is managed print?
Managed print services (MPS), becoming increasingly available to businesses, are a way for businesses to save money on printing. MPS providers can help you streamline printing processes and reduce waste by providing expertise in managing your company's printers.
As an MPS provider, we offer services that include policy implementation and monitoring, user education, printer maintenance, and troubleshooting—all designed to help you manage the cost of printing while maintaining security and efficiency.
Why should you care about managed print services?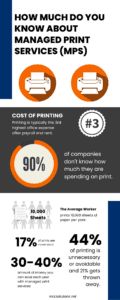 You should care about managed print services because they can help you achieve the following:
Reduce waste and reduce paper usage.
Save money on printing costs, which is good for your bottom line.
Improve employee productivity by reducing time spent searching for documents and reprints and increasing access to information when needed. This also helps with employee satisfaction and retention.
Reduce your business's carbon footprint by reducing unnecessary printing, copying, and faxing that does not need to happen (or if it does, only happens once). This is also good for the environment!
Managed print services are a great way to upgrade printers or copiers over three years old; this will ensure better performance from these devices, which may be underused due to outdated technology or software issues–and it will also save money in the long run!
How do you know if your business needs an MPS provider?
You may need a managed print services provider if:
You are wasting a lot of paper, envelopes, and toner. If you are printing unnecessary things or don't require a hard copy, you could be wasting money by printing them on your own.
Your printing costs are high and increasing every year. Print technology is constantly changing and evolving, so finding the right balance between cost savings and functionality in this area can be difficult.
You have no idea how to manage your print fleet effectively or efficiently yourself! This is something that MPS providers do all day, every day, so they know exactly what makes sense for your company's needs when it comes to MFPs (multi-function printers) and copiers as well as their consumables such as toners & ink cartridges, etc.).
How to get started with Managed Print Services

The first step to getting started with MPS is to assess your current printing situation. This can be done by creating a document workflow audit, which will help you identify ways to improve efficiencies in your organization.
Next, create a list of questions for MPS providers, such as: Do they offer free consultations? What sort of support and training is available? What types of printers, toner, and service plans do they offer? How much money can they save me on my printing costs per year? Why should I choose them over another provider?
At MCC, our sales experts will walk you through each step of the process. After the free consultation, our experts will work with your team to audit your existing workflow processes and determine how to save you money by reducing unnecessary printing, replacing inefficient devices, and cutting down on toner and supplies.
We hope that this blog post has given you some inspiration for how to save money with managed print services. Remember, it does not have to be complicated; there are many ways in which you can work towards achieving your goals. If you think your business could benefit from a managed print solution, let the print experts at MCC help. Contact us today!