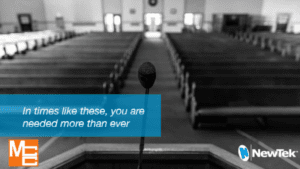 In uncertain times, nothing is more important than staying connected to your community. Your audience, congregation, and people need you now more than ever. Messages of help, healing, and hope are as needed now as they have ever been. Ironically, the tried and true delivery method since ancient times — the spoken word, in person, inside a house of worship — is now suddenly inaccessible. With more and more people staying home, getting your message to them is becoming more of a challenge. We are here to help with all your video production and live-streaming needs.
With solutions from MCC and Newtek, your house of worship can easily and affordably produce, record, and livestream services, classes, group sessions, and any other message you need to get to your congregation or community. Our solutions make it possible for a small team or even a single person to deliver their message professionally, in real-time, and have it available later for on-demand viewing.
Modern video production technology has evolved tremendously over the last 10 years, making producing content that looks like real TV easier and more affordable than ever before. From simple single-camera setups to more complex but still easy-to-use multi-camera systems, MCC can get you started and help you spread your message of hope to the people who need it most.
Whether you need to live-stream your video to Facebook or YouTube or want to record it for later viewing on your website, the NewTek TriCaster system is precisely what you need.
In addition to getting your message to your existing community, video can help spread your message to a new generation of people seeking hope and faith. Compelling, engaging video, streamed to the right services, can deliver your message precisely where this new generation is most comfortable, allowing you to capture the hearts and engagement of people beyond your current community.
"Live video production systems used to be the preserve of broadcasters and required highly skilled technical operators. By harnessing the power of software and automation, broadcast-quality productions, on-screen graphics, virtual studio sets, and camera transitions can be set up and ready to go in under 5 minutes by the worship team. Have a look here to see how it can be done." – NewTek
NewTek products ease the fear by houses of worship that beginning an online service is complex, requires video production expertise, or is costly. MCC helps to reduce that fear even further by providing full installation and in-depth training as well as complete service and support. By partnering with MCC and Newtek, your house of worship will quickly transition to online video streaming.
Our experts are standing by to help you stream your message to your website, Facebook page, or wherever you want your message to be heard. Contact us today for a free consultation and live demonstration. We are here to help.