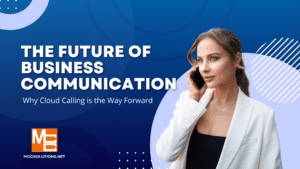 The traditional on-premise phone systems are becoming increasingly inefficient and difficult to maintain. With the rise of cloud technology, businesses are now turning to cloud calling as a more cost-effective and reliable way to communicate.
Cloud-calling reduces both costs and management requirements while increasing flexibility and scalability. It eliminates the need for expensive hardware and complex installation processes, allowing businesses to set up their communication systems with minimal effort quickly. Furthermore, cloud calling allows businesses to scale up or down depending on their needs without investing in additional infrastructure.

The cloud-calling platform is also much more secure, allowing businesses to protect their calls from potentially malicious actors. This is especially important in the current digital landscape, when data breaches are rising, and businesses must ensure that their communication networks remain secure. With a cloud-based system, it's easy to set up multiple layers of security, such as encryption and authentication protocols, to protect sensitive information.
The other major advantage of cloud calling is its ability to integrate with existing applications and services. Businesses can easily connect their communication systems with essential tools such as CRM software or web conferencing platforms by leveraging APIs. This makes it easier for teams to collaborate and stay connected while allowing businesses to streamline their processes.
The future of business communication is clearly cloud-based, and the benefits are clear. By leveraging cloud technology, businesses can reduce costs, increase scalability, boost security measures, and integrate with other applications. As technology continues to evolve, we can expect to see more companies adopting cloud calling as their primary mode of communication.
Ultimately, cloud calling is an excellent way for businesses to stay connected and ensure efficient collaboration cost-effectively. With the right tools and strategies, companies can make the most of this powerful technology and improve their operations.
A recent study by Gartner shows that by 2025, 50% of overall telephone users will be cloud-based. This indicates that more and more businesses recognize the benefits of cloud calling over traditional on-premise phone systems. The future of business communication is here, and cloud calling is leading the way.
Businesses already benefit from cloud calling through features like HD video, audio, screen sharing, recording, customization options, and secure communication. Webex provides a comprehensive suite of tools that allow businesses to collaborate securely across multiple devices while maintaining high-quality audio and video calls. With its built-in security features, such as encryption protocols, authentication measures, and data privacy policies, Webex ensures that all communication remains safe and secure at all times.
As one of the leading cloud calling providers, Webex is perfect for businesses of any size. From small one-person retail shops to full enterprise-level businesses, Webex Cloud Calling is secure, reliable, and feature-rich. With Webex, businesses can make the most of cloud calling and take their communication to the next level.
In conclusion, cloud calling is the way forward for business communication. Its low cost of entry, scalability options, and comprehensive security features provide businesses with an efficient way to communicate without compromising on quality or reliability. So if you're looking for a reliable solution for your business communication needs, look no further than Webex!
Learn more about Webex and how MCC can help with your transition to cloud calling. Already using cloud calling? No problem; we can probably still save you money and improve your call quality and service. Speak to an expert today!