Source: Brief Introduction to Frame Buffer Animations | The Tip Jar | NewTek Tips & Tricks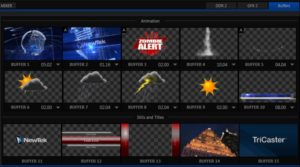 TriCaster™ Frame Buffer Animations offer a lot of power, and folks have a lot of questions about how to put that power into production. Let's take a look at some of the questions people have, and share a tip on one of the lesser known abilities you can use to make compelling production content.
What are Frame Buffer Animations?
Frame Buffer Animations are animated effects compiled from your own clips using the supplied Animation Store Creator application that comes pre-installed on your TriCaster Pro Line model. These animated effects can be applied in any video channel, including all main Switcher and Mix/Effects rows, or as overlays in the numerous DSK and Key channels. These are available on TriCaster models 460, 860 and 8000.
Frame Buffer Animations come in two types:
• Looping Effect: the animation loops endlessly (perfect for bugs, station IDs, etc.)
• "Alert" or Run-Once: the animation will auto-run once when displayed.
These effects are resident in reserved Switcher Memory, making it possible to use them all at once without tying up Media Players. They are also available instantly – there is no wait time to load. Buffers can effectively take the place of many additional Digital Disk Recorders (DDRs).
The documentation for the Animation Store Creator is accessed from the Help menu on the TriCaster Home Page in Startup.
What are some ways to use Frame Buffer Animations?

Use as looping backgrounds for use in virtual sets.
Use as looping Station / Event IDs for watermarking content.
Use for remotely updated graphics information from a 3rd Party Vendor software.
Use as Looping Logo Spin for your company logo or a client's logo, for your production meetings. Place this in any empty monitor on the MultiView so the client sees the logo spin over your shoulder all the time on your main view screen or an auxiliary output.
Convert and play back short clips as a Frame Buffer Animation, so that your DDRs stay available for other uses.
What tools do I need to make Frame Buffer Animations?
You need Animation Store Creator™, which is pre-installed on TriCaster Pro Line models, plus any application that can make image sequences. This would include NewTek™ LightWave 3D™, SpeedEdit™, Adobe™ After Effects™, Blackmagic Design Fusion™, Apple Motion™ and more. Short clips can also be loaded into Animation Store Creator and converted for use as a Frame Buffer Animation.
What are the limits with Frame Buffer Animations?

The limit for a sequence to be used as a Frame Buffer Animation is 600 frames. However, we recommend that you keep to 300 frames or less to avoid running out of Switcher memory, especially if you will be using multiple Frame Buffer Animations in a Session.
Frame Buffer Animation Secret Weapon

A capability that is often overlooked is that the TriCaster Buffers perform full motion interpolation of frames within a Frame Buffer Animation. This means that you can design buffer animations that have a relatively small number of frames, yet still have entirely smooth motion at any playback speed you select or enter. This capability can save time, effort and storage space when making the effects, while maintaining quality at production time. Almost any other product out there at best duplicates frames, and most only play at exactly 100%.
The TriCaster is so versatile. You can literally learn a new trick each time you use it. Come see us anytime for a demonstration!