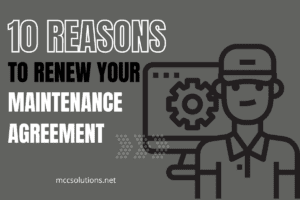 10 Reasons to Renew Your Office Equipment's Maintenance Agreement
Updated 09/08/2022
Your busy office is filled with technology that keeps your business running.  The multi-function device that serves as your printer, copier, scanner, and document management device is essential to your office operation.  The phone system, presentation equipment, and conferencing solutions are how you connect with your potential clients.  And don't forget your physical security solutions that protect your facility from theft and harm.  When these vital systems operate below peak performance, your business is operating below peak performance too.
At MCC, we believe the best service we can provide our clients is to include a maintenance agreement with each solution we sell.  This maintenance agreement is our promise to you to keep your office systems running at their best.
Here are 10 reasons a maintenance agreement helps protect your business and why you should renew yours now.
1. Enjoy Fixed Operating Costs
Your maintenance agreement protects one of the most costly office systems you own. If we have to repair your system while it is protected, you need only call our office; your system will be repaired at no additional cost to you. Your repairs are all covered under your maintenance agreement at one fixed rate. Imagine if your vehicle came with the same type of protection and oil changes and tire rotations were a one-time payment and an easy phone call away. But even beyond routine maintenance, what if your transmission replacement and engine work were covered too, all for one fixed cost? That is a deal you cannot pass by.
2. Experience Priority Service
We have an average response time of fewer than 4 hours on service calls. Your maintenance agreement provides you with priority service over non-covered service calls. MCC makes every effort to minimize all downtime on your equipment, but when repairs are needed, you come first. We have a large technical staff and carry extensive parts and inventory for equipment we sell, lessening the wait time for repairs requiring replacement parts.
3. Help protect your investment
Your office equipment is a sizable investment crucial to your business's smooth, uninterrupted operation. Don't leave its maintenance to chance. Rest assured that your equipment will be in working condition when needed; with 4 routine maintenance visits per year, your system is covered. These visits, initiated by MCC, allow our technicians the opportunity to not only resolve potential issues before they become problems but to clean and prolong the life cycle of your devices.  Clean and properly functioning electronics live longer, giving you more value for your investment.
4. Extend product life with a maintenance agreement

We believe the best way to handle problems is to prevent them in the first place. Our technicians perform routine, preventative maintenance on all systems covered by MA to ensure peak performance. Regular maintenance is essential to prolonging the life of your equipment and ensuring it stays in working order. These routine visits are initiated by MCC every quarter and give the technicians the chance to replace parts that wear out, clean the system, and build a strong relationship with their clients.
5. Get personal one-on-one attention
When you call our local number, you will ALWAYS be greeted by a live operator, not a machine. Be assured that you are not just a number to us. By utilizing our direct service line, you will speak with a live representative who will quickly place your call and dispatch a technician to assist you.  In most cases, you will have the same one or two technicians throughout the life of your system.  This allows you to develop a good working relationship with your technician and allows them to be an expert in your specific business needs. Don't believe us? Just look at our Google Reviews.
6. Enjoy the assurance of dealing with an industry leader
MCC is one of the nation's oldest and largest office automation and business systems dealers. You can feel confident that we have the experience and the resources to solve your repair issues. With over 50 years of dealer experience, we have seen it all and have the manufacturer awards to prove it.
7. Receive service from experts who are factory trained and certified
We invest over $40,000 annually to keep our technicians factory-trained on every system we sell. Our service/installation technicians have over fifty years of combined service experience, and our professional staff has been recognized as being in the top 5% of service departments by major manufacturers.
8. Get special low prices on quality supplies and upgrades
With your maintenance agreement, you can purchase your supplies at a discounted rate. And if you choose to upgrade your existing system, you can obtain a brand new one from us at lower prices, which is made possible by our volume buying power.
9. Save money by renewing your Maintenance Agreement

It is easy to look at your invoice for the renewal of your MA and decide to "save" that money instead of renewing your warranty. But consider this; without a maintenance agreement, all service repair costs are your responsibility, and each service need is a minimum of $150.  An average copier repair call for simple routine maintenance could easily run $300-700.  Compared to the cost of your maintenance agreement, are you really saving money?
10. Peace of Mind
Have confidence in knowing that you have selected the best service and support team for your business systems. You take care of your business and let us worry about your office equipment.
We make it easy to renew your maintenance agreement. When the time comes, you will receive an invoice automatically.  If you don't currently have an agreement and would like to see if your equipment qualifies, please feel free to contact us and one of our service managers will gladly assist you.