Award Winning Service
Our technicians undergo rigorous training from our vendor partners and our own internal training programs. Because of this, MCC has been recognized by multiple vendors for superior service.
"MCC is customer service driven & that is why we have been a customer for 10 years now." -- Rockvale Middle School
MCC Express Passport
The simplest way to request service, order supplies, and report copier meter readings from your smartphone.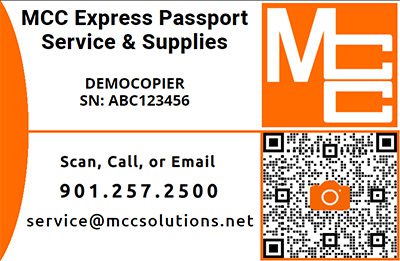 We've Simplified Everything!
The MCC Express Passport is the easiest way to request service or order supplies. Simply scan the QR code with your smartphone, select Request Service or Order Supplies and all the necessary information is pre-filled in the form. All you need to do is enter the reason for service or supply quantity and submit your request. Placing a request takes less than 10 seconds.
4 Locations to Serve You
MCC is proud to have 4 locations across Tennessee and Mississippi.