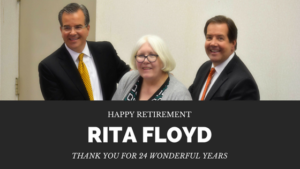 These days, longevity in a job is a rare thing. According to the Bureau of Labor Statistics in 2016, the average length of employment is 4.6 years per job and that number is going down. In a time when people change jobs as easily as they change clothes, finding an employee who gives 24 years of dedication and service to one company is a rare treat. MCC found that in Rita Floyd.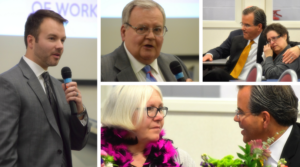 March 31, 2017, the MCC family gathered together to wish Rita a fond farewell and thank you for all the joy she brought to our company. Throughout all the guest speakers and well wishers, one theme seemed to bind it all: Rita was and always will be a joy to know and be around daily. Her dedication and hard work were second only to her kindness and positive spirit.
In her retirement letter, Rita mentioned how easy it was to get up everyday and come to work because of "the joy and satisfaction of working at MCC."  Our founder, Dean Berry, spoke to this same dedication when he said "she's always here!"  More than just always being here, Rita was always here with a smile and a willing spirit.  Her desire for the job to be done and done correctly was only out done by her ability to do it with patience, caring and a ready smile.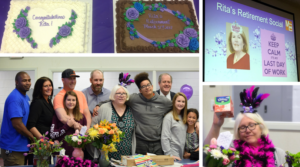 Rita, you will truly be missed at MCC. We wish you all the best in your retirement and may the next 24 years be as rich and full as the the last 24.  Thank you for choosing to share your life with MCC.  Enjoy your well deserved retirement and this time with your family.