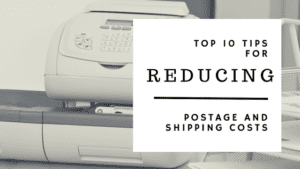 One of the most often overlooked expenses of a new business is shipping and postage costs.  This includes not only the cost of postage and supplies but also the time your employees spend folding letters, stuffing and addressing envelopes, sorting and preparing the mail, and processing packages for shipment.  Shipping can account for more than 25% of a business's expenses.
Our dedicated sales team has come up with their top tips to help your business reduce the cost of shipping. Using these tips can not only save you money on postage and shipping costs but can also help get your employees back to more productive work.
Use a postage meter.  Not surprisingly, the number one tip is to use a postage meter instead of paper stamps or online postage.    Not only do your employees save time dealing with the mail or going to the post office, but the USPS gives discounts on postage to people using postage meters.  Simply switching to metered mail could save an estimated 33% on postage.  "Postage meters save time and money because it's like having a post office in your office," says Bryan Britt, MCC Mailing Solutions Sales Manager.
Don't assume your business is too small for a postage system or shipping solution.  Olivia Sutton, Sales Consultant in our Memphis office,  states, "Most businesses who ship only a few packages per week assume they cannot receive discounts on their shipping.  Even if you only ship 5-10 packages per week, you can receive USPS commercial base pricing (generally 12-14% discount per package) through your postage meter with a simple add -on solution that allows you to print the IMpb that USPS requires.
Stop hand folding/stuffing envelopes. Manually folding invoices and marketing materials and hand-inserting them into envelopes is time-consuming and inefficient.  Adding a folder inserter to your mailroom equipment can save time and release your employees to more important tasks.  Our Quadient folder inserters can fold up to 26,000 sheets per hour and stuff up to 12,000 envelopes per hour, saving your business time and money.
Verify address integrity on your mailing and shipping.  According to Joel Kiedis, a MCC Sales Consultant, "If an address is incorrect, it affects cash flow. Say a statement does not get to its destination; what is the average cost of that statement? How does that impact days outstanding? The average undeliverable mail piece spends 30 days in the postal stream until coming back." The time required for employees to verify each address on each piece of mail can easily be replaced with software that validates addresses against the USPS change of address database, allowing you to verify addresses for customers who have moved, are deceased, incarcerated or have requested "do not mail" from the USPS.  Validating addresses before shipping ensures your mail reaches the correct person promptly and your invoices get paid instead of lost in the mail.
Negotiate with carriers and check your bill.  As a business, you should negotiate shipping rates with reps for multiple carriers to get the best rates.  If you do not know who your local representative is, contact the carrier so you can be given the information.  These reps are responsible for negotiating the best rates for you, answering questions, and making the shipping process comfortable for your business.  Once you have gotten the best rates, make sure to go over your monthly bill carefully. Olivia Sutton offers this advice to her clients, "Don't just invest time and resources into negotiating contracts with the shipping carriers ( FedEx, UPS, ect.), but invest attention to the carrier invoices to make sure you are receiving what you negotiated as well as not getting charged extra fees and surcharges on the back end (bad address fees, additional fuel surcharges, refunds of late deliveries, ect.).   There are software solutions that will review your carrier bills against your contracts to help with the paperwork process to change the bill if incorrect or software that allows you to catch the problems on the front end before the package hits the mainstream.  The average shipper overpays on their carrier bills by as much as 5% due to mistakes made by carriers in the invoicing process."
Use software to rate shop carriers and carrier services.  With the EMS, ESS, or ProShip software solutions we sell at MCC, the burden of figuring out the best rate and/or service is taken off the employee and determined by the software.  This could mean saving $20-40 per package versus using the same carrier and method for every package.
Free shipping systems are never free.  "These systems cost more in the long run compared to multi-carrier solutions.  Don't focus only on the upfront cost of the system.  A multi-carrier system can cut shipping costs by 10%-15% every year.  When you use a free shipping system, you cannot shop across all carrier services; you have less leverage when negotiating rates, no upfront knowledge of fees and surcharges, no ability to check address accuracy before shipping, and limited or no ability to integrate to your back-office." says Olivia Sutton.  This software is available with your postage meter or in a standalone shipping station.
Add promotional materials to your mailings.  With a postage meter, the cost of tucking marketing materials into your invoices and statements remains the same up to 4 sheets in one envelope.  This cuts down on extra mailings each month and saves postage.  Joel Kiedis adds, dressing up your mailings helps to catch the eye of the person receiving the mail making it more likely to be read.
Stop logging and tracking postage usage manually.  Software built into the postage meter or shipping software helps track dollars spent, pieces mailed, and what class of mail was used. This information can be tracked by department, saving you precious time and money.  
Use bulk mailing software.  If you are mailing 200 or more pieces of like mail (all marketing or invoices), bulk mailing software can help you clean up your mailing list and receive discounts on your postage.  "Anyone that is sending 200 pieces or more in marketing material can obtain an average of $.20 per mail piece in postage savings," says Joel. He also tells us that sending 500 or more checks, letters or invoices makes your business eligible for savings of $0.09 per piece of mail.  For a business that sends out 1000 monthly invoices, that is around $90 in savings.
If your business has not switched to metered mail yet, stop wasting money and contact our amazing team of sales consultants to see how much you could save.  With 4 locations across Tennessee and Mississippi, offering both sales and service, MCC will surely have a solution to fit your business.  Visit our Mailing Solutions page for more information.