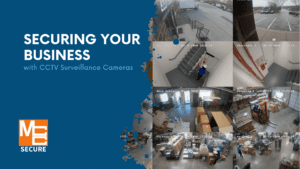 Updated – August 31, 2022 MCC Secure – Smarter Business Security
As a business owner, you have spent countless hours building and growing your business. Now that you have established yourself in the market, it is time to consider securing your investment. Imagine all that hard work, not to mention money, disappearing with one security breach or accident because your building was not secured properly. What would happen if there was a break-in at your business? Would you be able to provide surveillance camera footage of the perpetrator? Or would you be relying on the police and crime scene investigation? Studies have shown "an error rate of .8 percent in matching prints." In 2002 alone, that would have led to 1900 mistaken fingerprint matches. Other studies have shown that surveillance cameras have not only helped to solve crimes but could also help prevent them from happening altogether.
What Type of Security Do I Need?
Physical business security can be broken down into two major areas: Surveillance and Access/Entry. We discuss the benefits of an entry system in another post. For now, let's focus on the surveillance aspect.
Surveillance includes any person or technology that "watches" and monitors the business. This could be a security guard or a CCTV camera system. Having a security guard, a physical person, to monitor your business 24/7 could get a bit pricey. A cheaper alternative is installing CCTV surveillance cameras that are always on and recording every angle of your building. That is something no security guard can do.
With DVR (Digital Video Recorder) based systems that feature indoor and outdoor, infrared or night-vision, dome or bullet cameras, CCTV surveillance camera systems are a highly customizable way to protect your business.
Top Five Reasons to Install CCTV Surveillance Cameras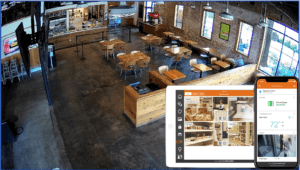 1. Potentially Prevent Crime
With well-placed, visible CCTV surveillance cameras throughout the business, would-be criminals will think twice about making your business a target.
2. Provide Evidence
A well-designed surveillance camera system can provide business owners with as much or as little footage as they want. Gone are the days of changing video tapes so your camera will continue to record. And storing hours, days, or even months of footage is possible now since hard drive storage has become so inexpensive. This means that if a crime occurs or an accident happens, you will have the video evidence you need.
3. Help the Police Solve Crime
Suppose your CCTV surveillance cameras are placed properly. In that case, you might even be able to help solve a crime that happened nowhere near your property by providing the police with vital evidence of who was in the area at the time.
4. Prevent Employee Theft or Wrong-Doing
No one wants to think their employees are capable of theft, violence, destruction of property, etc., but it happens every day. Well-placed surveillance cameras will help deter this behavior and keep those employees honest. And if it doesn't, at least you have the video proof you need to take action.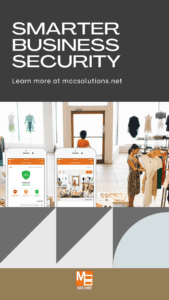 5. Monitor High-Risk Areas for Accidents
Factories, parking lots, and warehouses. These are all areas at high risk for major accidents to happen. Having video footage in the aftermath of an accident can help protect you from liability if the employee is at fault. Surveillance cameras in these areas can also potentially save lives. Having a CCTV surveillance camera system that is monitored means accidents, fires, or other harmful situations can be addressed more quickly and help prevent serious injury.
How to Ensure You Get the Best CCTV System
Memphis Communications has a dedicated team of sales and service professionals who are factory-trained to ensure your security system meets your exact needs. With our in-house Systems Integration Team, MCC will work with you to custom design a system that provides the right number of cameras in the exact right placement to fit your business. That custom design can't be found in an out-of-the-box surveillance system. We will also work with you to ensure you have the right video retention level for your business. The needs of a small 20-employee business do not match those of a larger 500-employee business, and MCC will ensure you have the right amount of coverage to fit your business. We even provide the ability to remotely view your new surveillance camera system from your smartphone or tablet so that you can monitor your investment from anywhere.
And once the installation is done, MCC's professional technicians ensure your new system stays in perfect working order. Nothing is worse than having a surveillance camera system and finding it does not work when needed. With MCC's preventative maintenance service, we make sure to find issues and fix them before they become problems.
Visit our Security Solutions page for more information on the types of cameras we sell and our products. Contact one of our sales consultants today for a free demonstration.