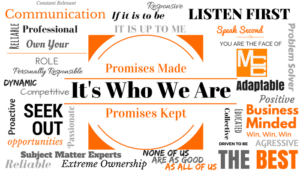 Memphis Communications Corporation is a lifelong career center.  It is a place where people can grow.  We strive to be the best at what we do and part of that is upholding a set of core values.  Each teammate at MCC embodies these values.  Promises made. Promises kept. Since 1972.
At MCC, this is what we believe in and what it takes to be an MCC Employee:
Extreme Ownership – You are personally responsible for the ENTIRE service experience. From the first reporting of an issue to the completion of repairs, our employees take ownership of the entire service call process to ensure our clients have the best possible experience.  That means following up on parts orders and ETAs, communicating with clients about repairs, and ensuring client satisfaction are all part of each employee's job so that nothing falls through the cracks or gets lost in the shuffle.
Professional Image – You are the face of MCC.  Anyone who has seen our technicians knows they wear white dress shirts and ties.  We have often been asked why, and the answer is simple: because we are Professional Technicians.  From clean fleet vehicles and good communication to freshly pressed dress shirts and ties, our technicians present a professional image that our clients have come to expect and respect.
Problem Solving – Figure it out. Problem solving skills are a necessity for any technician.  At MCC, we believe that our technicians responsibility is to ensure our client's service is restored as quickly as possible.  Problems will occur and we equip our technicians with every ability to figure out a solution as quickly as possible.  "If it is to be, it is up to me."
Passion – Be driven to be personally accountable for your own success. Be proactive and positive. Passionate employees drive a business forward.  Technicians who are passionate about their jobs will seek out opportunities to succeed by ensuring they go above and beyond our client's expectations.
Reliability – Do what you say you are going to do when you say you are going to do it.  It is a simple principle, but so often neglected by others.  At MCC, it is our motto; "Promises made.  Promises kept."  We have been doing it for 44 years and every technician knows that reliability is the backbone of who we are.
Education – Be a Subject Matter Expert (SME). Crave and seek out useful and pertinent information, and training to your industry at all times.  Employee education is one of the most important things in which a company can invest.  At MCC, successful technicians seek out opportunities for education above and beyond the norm.  They read industry news and updates, vendor training, and any information pertinent to their service area.  And these technicians then educate their fellow technicians so the whole team gets stronger.  By doing this, the client is assured to get the best service possible from the best trained technicians in the industry.
Competitive / Aggressive Nature – Be driven to be the best. Seek out new opportunities.  Our technicians are always looking for new opportunities to grow the business.  From supply sales and upgrade opportunities, to alerting the salesman to possible growth opportunities in new areas, aggressively seeking out this new potential is how we grow as individuals and as a business.
Empathy and Understanding – Be "tuned in" to the customer and build professional, lasting relationships. Ability to put yourself in the client's shoes.  Our technicians understand that the service we provide is essential to your business as well as ours.  It is their responsibility to ensure your equipment is working properly so that your business runs properly.  Each technician has been trained to listen, ask the right questions, and put themselves in our client's shoes so that the required repairs are as important to them as they are to our clients.  "Listen first, talk second."
Adaptability – Be flexible to make decisions that satisfy the customer in any unpredictable situation. The capacity to be responsive to a changing environment. Nothing is cut and dry in the world of technology.  Things change and our technicians must change with them.  Being flexible and adapting to unpredictable situations is part of the daily life of a MCC service technician.
Business Mind – Understand the relationship between the client, the company and yourself.         It's a Win, Win, Win situation. Having a business mind is essential to seeing not just how the client or MCC benefit from a situation, but how the technician benefits as well.  Knowing how you fit into the situation ensures you have a personal stake in the outcome and can work to find the best outcome for all involved.
Communication – Strive to keep clients and co-workers constantly informed.  Nothing can be accomplished without communication.  Constant relevant communication to our clients and coworkers ensures issues are resolved in the most efficient means possible and all parties involved are aware of the progress.  The manner of communication is also important and we train on proper communication skills so that our technicians are as comfortable speaking to our client's CEOs as they are to their own coworkers.
Collective Conscience – None of us are as good as all of us. I am second.  Each of our technicians is fully capable of providing the best possible service to our clients.  Together, our technicians can accomplish more than any one technician alone.  By working together, teaching, supporting, and communicating with each other, we are unstoppable.
We are the Professional Technicians of MCC.