Streamline Your Healthcare Facility Document Management Solutions
Ensure HIPAA Compliance and Improved Efficiency
Secure Cloud-Based Faxing Solutions
With the FCC's "sunset" of traditional, analog fax technology, MCC offers secure cloud-based faxing solutions that allow you to continue to fax PHI and ensures HIPAA compliance to ensure patient data safety. Our solutions integrate with your Electronic Medical Records (ERM) and Electronic Health Records (EHR), allow you to keep your current fax number, and offer cost-effective solutions.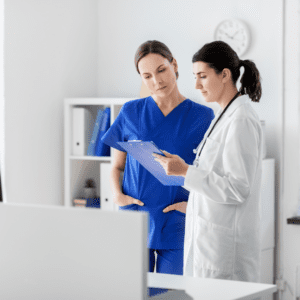 Streamline Document Workflow
The traditional method of paper recordkeeping results in lost forms, incorrect information, and potential security violations. MCC's Document Management software streamlines your document workflow and eliminates the cost of keeping and storing paper, as well as the cost of maintaining a fleet of printers and copiers. Our software helps you quickly find the documents you need, automate document processes, and securely store and share documents.
Cost-Effective Managed Print Services (MPS)
MCC's Managed Print Services help you reduce printing costs, lower your environmental impact, and increase productivity. Our solutions are tailored to your healthcare needs, providing you with the most efficient and cost-effective printing solutions. With our managed print services, you can decrease environmental waste, save time, and streamline your document workflow.