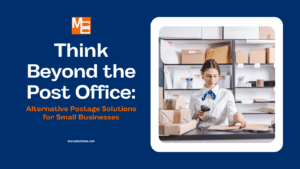 It's a familiar tale. You're just starting out and need to get your business off the ground. You have a plan and some capital, but you're still unsure how to move forward. You know you need a website and a marketing plan, but what about postage solutions? How do you send items to customers? How much should it cost? Will I have enough room in my budget for all of this? These questions can be pretty daunting for new entrepreneurs—and they're especially daunting if there's no one else in your life who has run their own business before. Luckily, there are lots of different options out there when it comes to postage solutions (so many!). So let's take a look at some of them today!
Postage Meter
A postage meter is a device that allows businesses to print their own postage instead of relying on stamps. It works by accurately weighing and rating mail, then printing the correct amount of postage onto the envelope or label. Postage meters offer many benefits to small businesses, such as saving time on mailing, decreasing error frequency, tracking expenses, and various discounts on shipping. According to a recent blog by Quadient, the use of a postage meter can help small businesses save up to $0.05 per piece of mail compared to regular priority mail stamps. This makes it an attractive option for any business looking to reduce costs without sacrificing quality. Postage meters are an incredibly powerful tool that can help struggling small businesses save money and time while still providing excellent service for their customers.
Benefits of using a postage meter:
Time saver: A postage meter streamlines your mail-handling process, allowing you to weigh and print hundreds of letters or packages quickly. This saves time and frees up personnel for more important tasks.
Cost-effective: Postage meters offer discounted rates compared to standard USPS or UPS prices. It helps small businesses save money, particularly if you send sizable volumes.
Customizable postage: With a postage meter, small businesses can customize the postage to include a company name, logo, or any other custom message you may require.
Waste reduction: Overpaying or underpaying postage on each piece of mail leads to a waste of time and money. With a postage meter, you eliminate this issue, reducing waste and cutting costs over the long run.
Error minimization: By integrating postal rates directly into the mailing process, the likelihood of human error is significantly reduced, leaving less room for mistakes.
Enhanced security: Postage meters come with features that keep track of postage usage records, monitor spending, and restrict access to the machine.
Convenience: Postage meters allow businesses to handle all their mailing needs from their office without having to make trips to the post office, making it a time and labor-saving aspect of business operations.
Professionalism: Custom stamps offer businesses the opportunity to create a strong brand image. Your logo or business name on your envelopes or packages projects a more professional message to your audience.
Outsourced Postage Solutions

Outsourced mailing software is a great solution for small businesses looking to save on their postage needs. It automates manual processes, removing bottlenecks and streamlining operations while providing the agility to navigate complex customer communications. By outsourcing your mail, you can reduce labor and postage costs, avoid the hassle of manually processing large amounts of mail, and save money by benefitting from various discounts on shipping. Additionally, it helps businesses save time on mailing, decrease error frequency, and track expenses. For small businesses that rely heavily on paper documents that require digitization, mailroom outsourcing can be especially useful.
Overall, outsourced mailing software is an effective way for small businesses to manage their postage needs in an efficient manner. With its automated processes and cost-saving benefits, it can help small businesses maximize their resources while minimizing their expenses. If you think outsourcing might be right for your small business, read this blog post from our partner, Quadient: Five questions to determine if a mail-outsourcing solution is right for your small to medium business.
Benefits of Outsource Mailing Software:
Cost-effective: By outsourcing their mailing needs, small businesses can significantly reduce their postage, labor, and material costs.
Improved efficiency: By automating manual processes and leveraging digital solutions, outsourced mailing software can streamline mailing operations and simplify the complex mailing needs of small businesses.
Flexibility: Outsourced mailing software allows businesses to create customized templates, and even personalize messages. This results in more effective and relevant communication with customers.
Increased accuracy: Outsourced mailing software, such as Quadient Impress, can minimize human error significantly by ensuring that documents are sent to the correct recipients with the correct postage.
Tracking: Outsourced mailing software provides tools to track the status of mailings, so small businesses can follow up effectively.
Compliance: By outsourcing their mailing needs to experts, small businesses can be more confident that their mailings comply with regulations, including GDPR, HIPAA, SOC 2. This reduces the risk of any enforcement actions on their business.
These factors make outsourced mail management software, such as Quadient Impress, a compelling choice for small businesses that want to make mailing more efficient, cost-effective, and compliant while remaining competitive.
Shipping Software
Shipping software such as Quadient's Neoship is a powerful solution that can drastically reduce costs and improve efficiency regarding small business shipping needs. Shipping software allows businesses to easily manage and automate shipping by printing labels, tracking packages, and evaluating costs against shipping carriers. This can help save time on shipping as businesses can track their orders more closely, reducing confusion and improving accuracy. Moreover, it reduces the frequency of errors, with sophisticated features designed to minimize mishaps in the shipment process. Shipping software enables small businesses to be particularly efficient in their shipping procedures as tracking expenses, consolidating orders, and leveraging discounts become more manageable. By automating the shipping process, small businesses can save money and focus on growing their business, instead of spending countless hours managing their shipping operation.
In conclusion, postage solutions can be customized based on the unique needs of different businesses, and finding the right one for your small business can substantially impact your bottom line. By evaluating your business needs, you can determine the most appropriate and cost-effective postage option for your business. Whether it's postal stamps, postage meters, outsourced mailing software, or shipping software like Quadient's Neoship, there is no one solution that fits all. If you're unsure about which option is right for your business, contact us today. Our team of experts can guide you through the pros and cons of each solution and help you make an informed decision about the best postage solution for your company's needs.