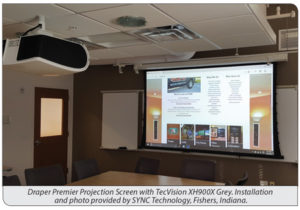 Source: Case Study: TecVision Turns on the Lights
IN THE "OLD DAYS," when it came time to put a projection system in a conference room standard practice was to simply install a matte white screen and hope the users would remember to close the window treatments or turn down the lights.
That practice is on the wane now as a variety of projection screen surfaces that reject ambient light are readily available, but it hasn't gone away completely, as Gary Jefferies discovered when he was called in to revamp the AV in a conference room. What Jefferies, the CEO and Owner of SYNC Technology Integration of Fishers, Indiana, found was a 10-year-old installation featuring a Draper Matt White screen and a Dell DLP projector.
"The clients were mainly concerned about bringing the room more into today's technology, but were heavily concerned about a brighter image as well as more of a wide screen format," according to Jefferies. "They did not like the fact that they had to completely turn off all lights and close all shades to even begin to make out an image."
…