Case Study: Streamlining Campus Mail Services with Quadient's Mailing System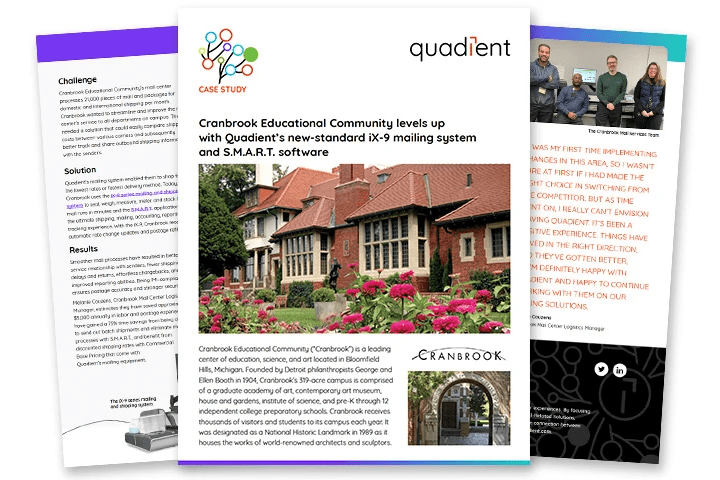 This case study highlights how we helped Cranbrook Educational Community streamline its mail center operations, resulting in significant time and cost savings.
---
The Client
Cranbrook Educational Community is a renowned center of education, science, and art located in Bloomfield Hills, Michigan. Their campus mail center supports the entire community's mailing needs, processing 21,000 pieces of mail and packages for domestic and international shipping per month.
---
The Challenge
Cranbrook's mail center needed a solution that could easily compare shipping costs among various carriers and better track and share outbound shipping information with senders. They also sought to improve service to all departments on campus and reduce shipping delays and returns.
---
Our Solution
Quadient's iX-9 series mailing and shipping system, powered by the S.M.A.R.T. application, provided the solution Cranbrook needed. The iX-9 seals, weighs, measures, meters, and stacks large mail runs in minutes, while S.M.A.R.T. offers comprehensive shipping, mailing, accounting, reporting, and tracking capabilities.
---
The Results
With our solutions, Cranbrook saved approximately $5,000 annually in labor and postage expenses. They achieved 75% time savings from sending out batch shipments and eliminating manual processes. Our system's IMI compliance ensured postage accuracy and stronger security, resulting in fewer shipping delays and returns.
---
Conclusion
This case study demonstrates the power of innovative mailing solutions in streamlining operations and driving cost savings. With Quadient's mailing system, Cranbrook Educational Community has improved its mail center services, enhancing the overall campus experience.
---
Ready to experience a similar transformation? Contact us today, and let us revolutionize your mailing operations with our advanced solutions.
Your journey towards more efficient mailing processes starts here. Let's make it happen together!